Kid Icarus: Uprising (3DS) Review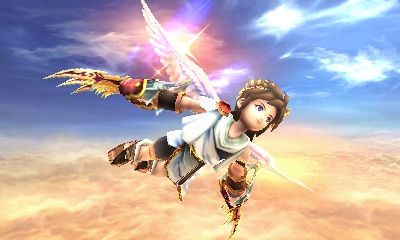 Kid Icarus: Uprising is a fantastic new start to one of Nintendo's most long-ignored IPs – the first game in the series since 1991′s Of Myths and Monsters – and an essential purchase for 3DS owners. Players guide main character Pit through 25 diverse stages ranging from war-torn temples and the depths of the Underworld to secret moon bases and dimensions of the mind. A mixture of peerless art design and unrivaled technical prowess makes each stage worth playing through just to see what's next: though it's no surprise at this point that the 3DS is capable of weaving such grand illusions, the frequency with which Uprising delights with these 'wow' moments is leagues beyond anything Nintendo's published in recent history.
A deft mashup of on-rails and on-foot shooting, Uprising never feels anything less than chaotic. The game is basically Star Tours on acid, and in fact, it's more akin to an Eisner-era Disney cartoon than to anything in Nintendo's portfolio. Stirring sci-fi seasoned Greek mythology with a cast of oddballs who, bless their hearts, just don't know when to shut up, Uprising is the Iambe to God of War's Ares: though it never lets you forget that this adventure is all about killing scores of foolish mortals for the amusement of the gods, the game's irreverence and self-referentialism to 30 years of Nintendo history provides sharp relief to gamers wary of yet another one of Kratos' rage-fests.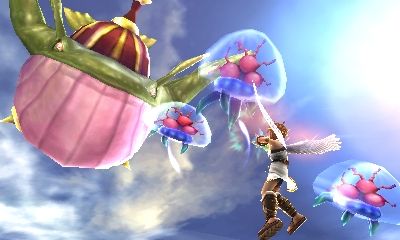 The only real downside to all this silliness, other than that it can be difficult to follow when you're trying to keep Pit alive, is that it tends to distract from an absolute stunner of a soundtrack. Showcasing the work of veteran composers Motoi Sakuraba and Yasunori Mitsuda, whose compositions have defined the epic nature of JRPGs for generations of players, Uprising's music has more in common with Chrono Cross and Star Ocean than Mario and Zelda. It makes for a soundscape that is wholly un-Nintendo, and players who play through the game a second time after unlocking the option to turn off dialogue are in for a revelation.

Speaking of unlockables, there is an almost unreasonable amount of additional content beyond Uprising's single-player campaign, including a simple but deep weapon crafting system, a store for purchasing items in exchange for hearts gathered from vanquished foes, and an assortment of fun (but mostly useless) tchotchkes, including 3D character models, soundtrack music, and menu customization options. Best of all is the game's risk versus reward difficulty system, dubbed 'The Fiend's Cauldron,' which rewards more daring players with rarer weapons and more hearts for completing missions on higher difficulty levels, but docks their bank of hearts for failing to live up to the challenge.
Most of this content feeds into a multiplayer mode that pits up to six players against each other in free-for-all or team-based battles that feel just as manic as anything seen on a Nintendo platform, thanks to constant random item drops and a balance shifting twist that sees soldiers transformed, seemingly at random, into all-powerful angels. Unfortunately, you never feel entirely in control during Uprising's multiplayer modes, and some players may choose to give it a pass because of that. Perhaps it's appropriate, though, given that designer Masahiro Sakurai's work on the Smash Bros games breathed new life into the idea of multiplayer on Nintendo platforms: skilled players often find themselves on the losing side and winners often claim no virtue but luck for their victories. Typical of the Nintendo ethic of fun, everyone can be a winner, whether they try or not.
 As much as I've talked up the virtues of Kid Icarus: Uprising, I can't ignore the controversy that's been brewing since last year around the game's control scheme. Say all you want about designer's intent, there's no getting around the fact that Uprising quickly becomes uncomfortable to play. The combination of L-trigger firing, stylus-based aiming, and a constant need to jam on the circle pad to avoid enemy fire and pull off some of the more powerful attacks, means you're frequently required to force your hands into some incredibly unnatural configurations. This isn't an issue during the game's flight segments, but for the approximately half of the game that sees Pit on the ground, you'll be hurting after not too long. Depending on the length of your typical gaming sessions (or your children's), you may want to consider pausing for a few minutes between levels and giving your joints a chance to recover. Given the recent announcement that Uprising is due to be patched in the not-too distant future, I sincerely hope Nintendo's planning to implement Circle Pad Pro support for aiming. This one small concession to healthy hands would wipe away the one dirty spot on an otherwise flawless experience.
It's a testament to Project Sora's work that Kid Icarus: Uprising is worth returning to over and over again, despite its fundamentally flawed controls. The game is a near-sterling example of how to re-introduce a long dormant franchise to an audience eager to see Nintendo strike out into new territory, while retaining that sense of nostalgia that dominates the hearts and wallets of the company's most faithful fans. If you're already on board with the 3DS, don't pass this one up. If you're still on the fence, you now have yet another reason to buy into the next Nintendo renaissance.